Patsy Ann III, 2001-2006
Golden Retriever "The bestest dog on the planet"
---
Patsy Ann was a female golden retriever. PA was a fearful, sickly gamma female, but was also a sweet and funny dog.
Patsy Ann pictures (2004-2006)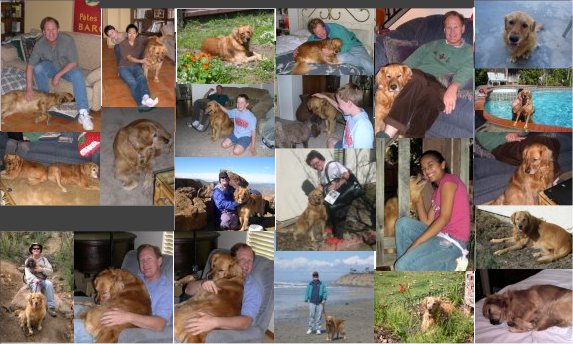 Captions:
More pictures not included above:
Patsy Ann Puppy pictures (2001-2002)
Patsy Ann investigating a flower pot (10/2001)

Patsy Ann investigating a flower pot (12/2001)

Note: I think she liked the smell in there. She stuck her nose into pots while a puppy.
---
Low Resolution (jpg)

(Click on image to see each picture.)


High Resolution (png)

These are high resolution and may take awhile to download.
They are big, but are good for printing.
Captions:
Top row: Helen drove by Dan's work on the way home to show the dog. Taken 14 Sept. 2001 (6 weeks) when we brought her home.
Column 1: top left: we rigged up this basket lined with an old towel to take a sick Patsy Ann to the vet. She had worms.
middle left: PA in her pen. She escaped easily until it was lined with ugly plastic bags and cardboard.
Column 2: row 2: day we brought PA home (14 Sept. 2001)
Column 3:
Column 4: middle: Patsy Ann with her head in a flower pot, 10/4/2001 (8.5 weeks). It must smell good. No, I didn't stick her in it.
Column 5: bottom: playing with her water bowl (and emptying it)
---
Taken 24 August 2001 (3 weeks)
at Jamul, California
(click on the image to enlarge).


Taken 14 September 2001 (6 weeks) at our home, San Diego, California.
This is the day we brought her home to our house
(click on picture to enlarge).
Patsy Ann Movies
Trivia
"Patsy Ann III" was born 4 August 2001 to Studlee Dudlee Bear SN620326/10 (11-2000) OFA 29G and Zoolee Baylee's Bambino SN614961/10 (3-2001). Note that the mother was only 5 months old when she gave birth.

Patsy Ann was the runt of the litter, and the litter all had Coccidia worms from poor sanitation, which further stunted her growth.
AKC Registration number: SN854236/02
Certified Pedigree (from AKC)
Home Again™ Microchip ID 402A256E5B (1-800-252-7894)

One of the few things Patsy Ann wasn't afraid of was lightning, as we conditioned her with a thunderstorm CD
Died: 22 August 2006, 9:00 a.m. (5 years, 18 days). Renal (kidney) failure.
Vet: Dr. Gary L. Rose, D.V.M, Cabrillo Veterinary Hospital, 4138 Voltaire St., Pt. Loma, 619-225-9684
Brave Patient Award (11/2003) (for eye operation)
Pet-Tenders 619-298-3033
Spayed female (1/21/2002)
San Diego County Dog License: 323314
Weight: 4.5# 9/14/2001, 5.5# 9/21, 7.5# 9/27, 9# 10/4, 10.5# 10/12, 12.5# 10/19, 12# 10/28, 17# 11/2, 19# 11/9, 21# 11/16, 26# 11/26, 26# 11/30, 26.5# 12/7, 31.5# 12/15, 33# 12/21, 35# 1/1, 1/4, 38# 1/18, 40# 1/25, 56# 5/3, 57# 6/9/2002. 60# at death, 8/22/2006
Patsy Ann was named after Patsy Ann of Juneau, who we recently found out about on our recent trip to Alaska. Patsy Ann (1929-1942) was a bull terrier who greated all the arriving steamships in the 1930's. Patsy Ann was stone deaf (from birth), but she somehow "heard" the whistles of approaching ships—long before they came into sight—and headed at a fast trot for the wharf. She was never wrong. Because of her service Patsy Ann was dubbed "Official Greeter of Juneau, Alaska" in 1934 and was exempted from dog licensing fees. A bronze statue memorializing her stands on the cruiseship docks, just northwest of the library.
Golden Retriever Cartoon

Golden Retriever Links
---
© 2001-2006 Dan Anderson. All rights reserved.
http://dan.drydog.com/patsyann/